The story of an introvert working in communication
Ioana Pristavu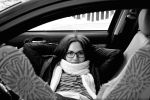 Among other things, I am a website copywriter, a daydreamer, a storyteller, occasional photographer, a good listener, a sucker for good design, an enthusiastic learner, a former athlete…

…and extremely curious to hear about your upcoming project.
What I do
Favourite quote
"It's a complicated and noisy world, and we're not going to get a chance to get people to remember much about us. No company is. So we have to be really clear about what we want them to know about us."
Steve Jobs
My story does not begin where so many entrepreneurial stories do – not in a corporate cubicle, not buried in papers or behind the desktop. I did beat a path through unchartered jungles to get here. 
I spent my early years in a big family, growing up with support and love. I went to school, like most children do, and soon after, I joined a volleyball team. Yes, sport is great…and difficult. Yes, sport teaches you discipline…and struggle. Sport gives you victories…and sorrow. Sport can help you find your values…and can tear you down. Sport teaches you passion…or the other way around. But most of all, sport connects PEOPLE. Just like communication. 
If you've read up to here, I assume you want to see the other half of the story. Going back down the memory lane, I remember clearly that I also used to be that shy kid at school, the one who would blush for a hiccup or choke on an essay presentation in front of the school board.
So, how do you make an introvert kid work in communication?
I became the observer, the mediator of the group, listening to everyone, taking notes and growing interest in every possible human interaction. For a while I tried different roles that seemed to fit better within the social context and I failed in an unsurprising way.
So I accepted that I will never be the soul of the party, neither will I ever be loud. But I found my place working in communication, helping people connect and supporting them in the long run to discover and to polish their voice.
Communication assistant  I  Fuel Cells and Hydrogen Joint Undertaking  I  BE
Website improvements: UX, readability

Social media and online communication strategy

Graphic design for media campaigns and for social media channels

Drafting requests for use and contract requirements needed for the Communication Department

Maintaining and developing good relations with press contact points
Self-Employed
Ongoing projects and collaborations including:
Web Design: wireframes, WordPress, SEO, responsiveness

Constant Media Monitoring

Creation of the Global Communication Strategy

Print Design: development of mini portfolio concepts 

Graphic Design: pitch deck presentations, logos, social media content
---
Assistant PR  I  Image4Sport  I  FR
Responsibilities covered:
Online Communication Strategy Development

Market Research & Data Administration
---
Editor in Chief  I  Planete Femmes  I  FR
Responsibilities covered:
Web Content & Social Media Strategy

Data administration: publications, contracts
---
Professional Volleyball Player
International experience, several trophies and achievements
(2015 Champion of Division Excellence France, member of Quimper Volley 29, 2014 Winner of French Federal Cup, member of Stella Calais Volley Club, 2011-2012 winner of Belgian Cup, with Dauphines Charleroi Volleyball Club, 2006 – 2008 Winner of Romanian Championship and the Cup
My Skills
Design
Brand Research

Web Design

Print Design
Photography
B&W and Color

Retouching

Portrait, Product, Architecture, Street, Landscapes
Copywriting
Personalised Social Content
Education
LLB University Titu Maiorescu  I  Bucharest
---
Master's Degree in Management and Communication  I SNSPA, Bucharest
---
Bachelor's Degree in Communication & Public Relations  I SNSPA, Bucharest, Romania
Certificates
IHECS Certificat en Communication Web  I  Brussels
Digital Communication Strategy

Digital Communication Optimisation (SEO/SEA)

Web Publishing Legal Framework
---
IHECS Class 'Communiquer avec la Presse et les Médias  I  Brussels
---
UNATC Photography class "Scoala de Duminica"  I  Bucharest
---
Certified English-Romanian Translator I Galati
---
Cambridge CA, ESOL Examinations